by Olga Kalyagina
What Russian CAD programs do you know? Perhaps nanoCAD from Nanosoft and possibly Kompas-3D from Ascon.
Russian developers also make their mark on widely-used products, such as CATIA, BricsCAD, and Altium Designer. Many global software vendors have established their own R&D (research and development) centers in Russia or else work with local outsourcing firms. Let's take a look at who they are.
CATIA from Dassault Systèmes
Designed for modeling sophisticated shapes and multi-thousand 3D assemblies, CATIA from Dassault Systèmes is especially preferred by the aerospace and automotive industries.
Some program components in CATIA V5 and V6 were developed by LEDAS, a software programming company in Novosibirsk. The Russian team contracted with Dassault Systèmes to help create the CGM geometric modeling kernel and the Constraint Design Solver between 1999 and 2011. This was not just about writing code, but developing the complex mathematical algorithms that brought these 3D modeling functions to CATIA.
In addition to working on those two components, LEDAS contributed to a pair of CATIA end-user modules, CATIA Product Engineering Optimizer and CATIA Knowledge Advisor.
The 12-year partnership with Dassault Systèmes earned LEDAS its reputation as one of the top companies to hire for R&D outsourcing services in the area of engineering software. A list of some of its clients is available on the company's Web site, www.ledas.com.
We here at С3D Labs also work with the great guys from Novosibirsk. They helped develop our B-Shaper SDK that converts polygonal models to 3D solid models.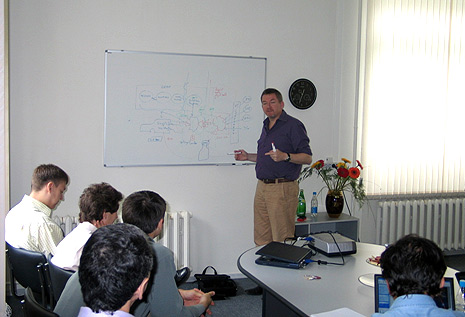 Dominique FLORACK, President, Research and Development, Dassault Systèmes,
in the LEDAS office, Novosibirsk, 2004
BricsCAD from Hexagon
BricsCAD is used for 2D drafting and 3D modeling and employs the industry-standard DWG file format. It was developed by Bricsys, a Belgian company, which was acquired last year by the Swedish IT giant Hexagon.
Bricsys has two R&D centers in Russia, one in Nizhny Novgorod and the other in Novosibirsk. It is interesting to note that the Bricsys team in Novosibirsk is closely connected with LEDAS. After LEDAS sold Bricsys the rights to some of the products and technologies they had developed, as part of the agreement some employees moved to the newly established Bricsys Technologies Russia subsidiary.
Bricsys is quite open about its ties with Russia and how it benefits from the relationship. The Web site of the company's Russian distributor informs visitors that "BricsCAD is the first alternative DWG-based CAD developed in Russia."
And journalists are happy to mention LEDAS in their articles about Bricsys. As Roopinder Tara wrote on engineering.com, "If you haven't heard of Bricsys in Ghent, it's even less likely that you've heard of LEDAS from Novosibirsk. LEDAS deserves more attention. Composed almost entirely by PhDs, some rocket scientists (they worked for the Russian military before the USSR meltdown, I'm told) were more than capable of creating entire, robust CAD programs of their own." ("A Lean CAD Company Punches Above Its Weight")
TurboCAD from IMSI/Design
TurboCAD software was developed first in South Africa but is now owned by the American firm IMSI/Design. Unlike Bricsys, it does not mention that its products were developed in Russia. For a long period, the SoftDev team from Saint Petersburg was taking complete charge of TurboCAD development.
ARES from Graebert
ARES CAD applications developed by Graebert GmbH (aka Gräbert) are fully compatible with DWG files. In the conservative engineering software industry where the benefits of cloud technology continue to be debated, Graebert is one of the few companies to develop cloud-based and mobile products that create and edit CAD drawings on the go.
Graebert has three R&D centers, one of which is located in Saint Petersburg, Russia, according to the company's Web site.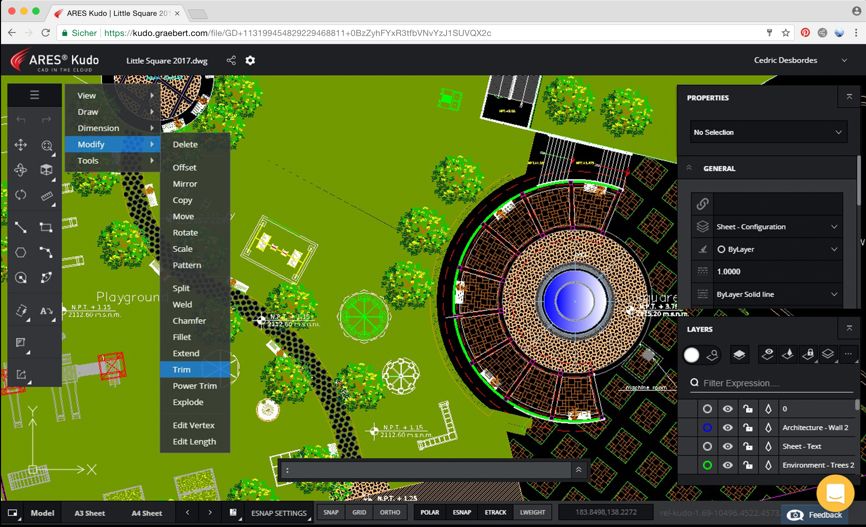 The ARES Kudo cloud CAD solution for DWG drawings. Source: graebert.com
IntelliCAD from ITC
The CAD development platform from IntelliCAD Technology Consortium supports a family of AutoCAD-workalikes. IntelliCAD features a user interface identical to AutoCAD, native DWG format support, the LISP programming language, and similar user commands and options. Its development takes place mostly in Nizhny Novgorod, the city on the Volga River.
Altium Designer
It is not an exaggeration to say that Altium Designer is one of the most popular software packages for printed circuit board (PCB) design. It is developed by Altium Limited, a company established in Australia in 1985, which over the last 35 years transformed itself into a global software company. It has headquarters now in San Diego, Munich, and Shanghai.
In 2015, the company announced that it opened software development centers in Moscow and Saint Petersburg. The Moscow team specializes in developing PCB routing functions and the browser-based CAD solution Upverter.com. The team in Saint Petersburg focuses on merging the electronic and mechanical design functions within Altium Designer, and on data management solutions.
It is especially gratifying for C3D Labs that our C3D geometric modeling kernel, C3D Solver constraint manager, and C3D Converter data translation module are implemented in Altium Designer. They help design rigid-flex PCBs, mate objects, and export models to STEP and Parasolid formats.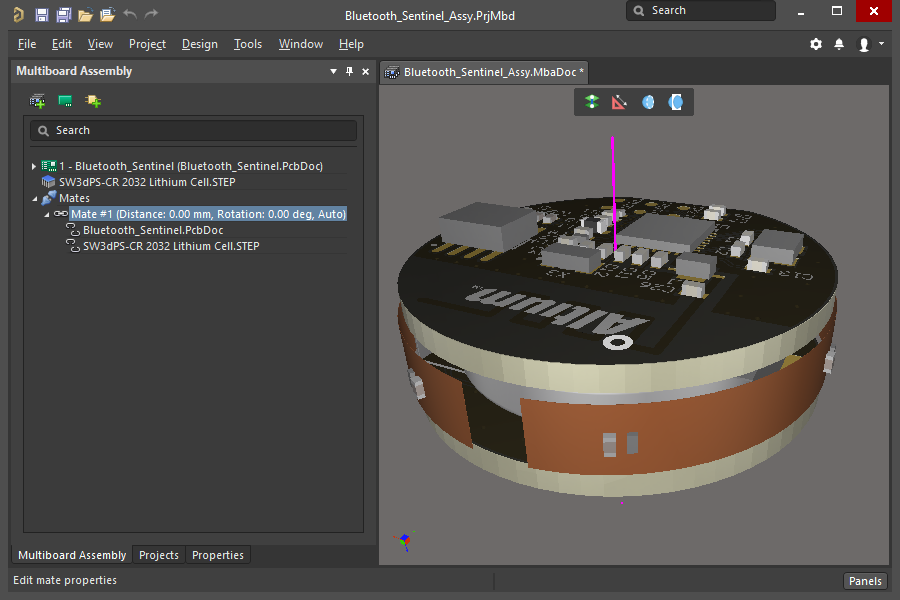 Altium Designer 19
Mentor Graphics
Together with Cadence and Synopsys, Mentor is one of the world's top three suppliers of electronic design automation (EDA) software. In 2017, the company was acquired by Siemens for $4.5 billion and was renamed Mentor, a Siemens Business.
The Mentor R&D center opened officially in Moscow in 2008. At the time, the facility focused on two areas, wire routing algorithms in PCB design, and approaches for verifying and analyzing high-speed PCB design. The center had 45 employees.
In addition to EDA software, Mentor is famous for its fluid flow and heat transfer simulation solutions, some of which have their origins in Russia. FloEFD for 3D computational fluid dynamics analysis, for instance, was originally created at the Moscow Institute of Physics and Technology, and today is still developed in Moscow. The figure below illustrates the history of the Mechanical Analysis department at Mentor Graphics.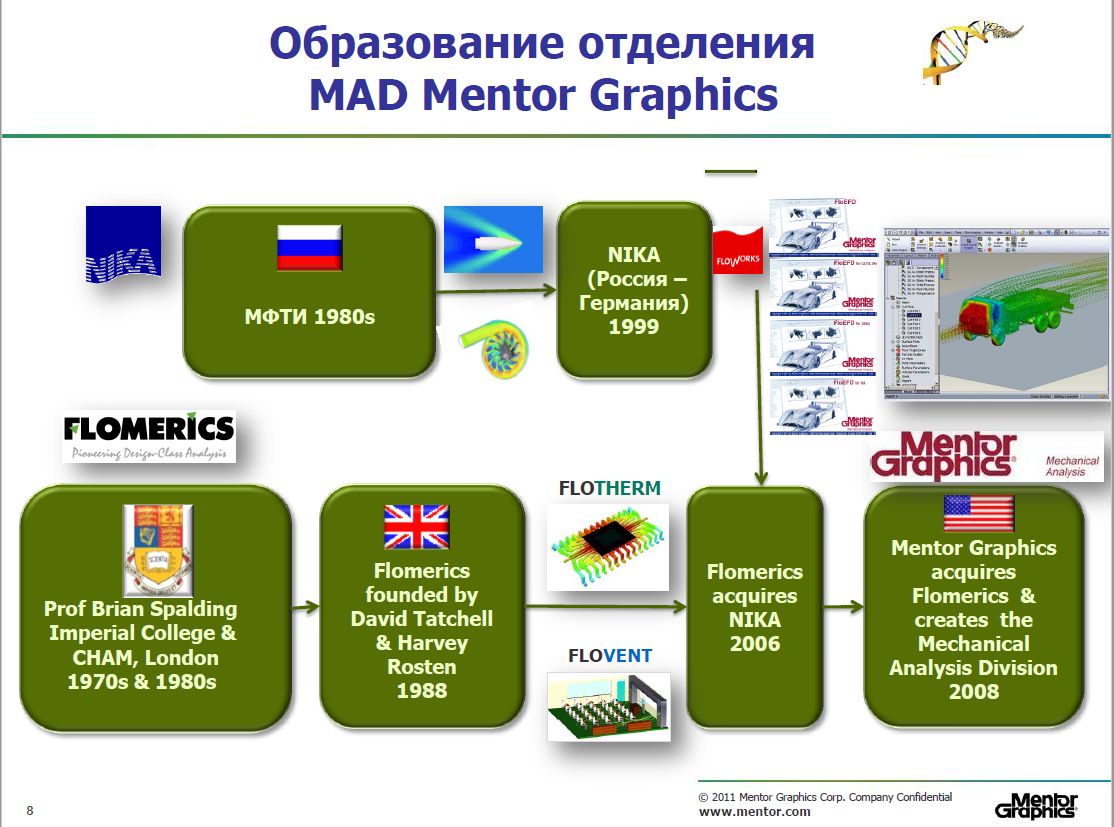 Source: cadflo.ru
Cadence Design System
Cadence Design Systems is the second largest supplier of electronic design automation software, and has an R&D center in Moscow. There, several teams specialize in different areas of product development, including extraction of chip layout data, microchip signal delay calculations, and physical verification.
Synopsys
And finally, the number one supplier of EDA software, with annual revenue of over $3 billion, also has ties to Russia. In 2010, Synopsys opened an R&D center in Saint Petersburg tasked with developing ARC processor solutions and photolithography tools. The center has 60 employees, according to the company's Web site.
ESPRIT from DP Technology
The ESPRIT CAM software from DP Technology is designed for automating CNC (computer numerically controlled) programming. It is developed in collaboration with Rubius, located in Siberian Tomsk. Rubius is a talented high-performance outsourcing company that also writes its own software for AEC (architecture, engineering, and construction), task management, and GIS (geographic information systems). The company is currently looking for programmers to work on yet another ESPRIT project.
Rubius built ESPRIT ExtraCAD with our C3D geometric modeling kernel. The software program was designed to work with ESPRIT CAM. DP Technology decided, however, to not proceed with the project.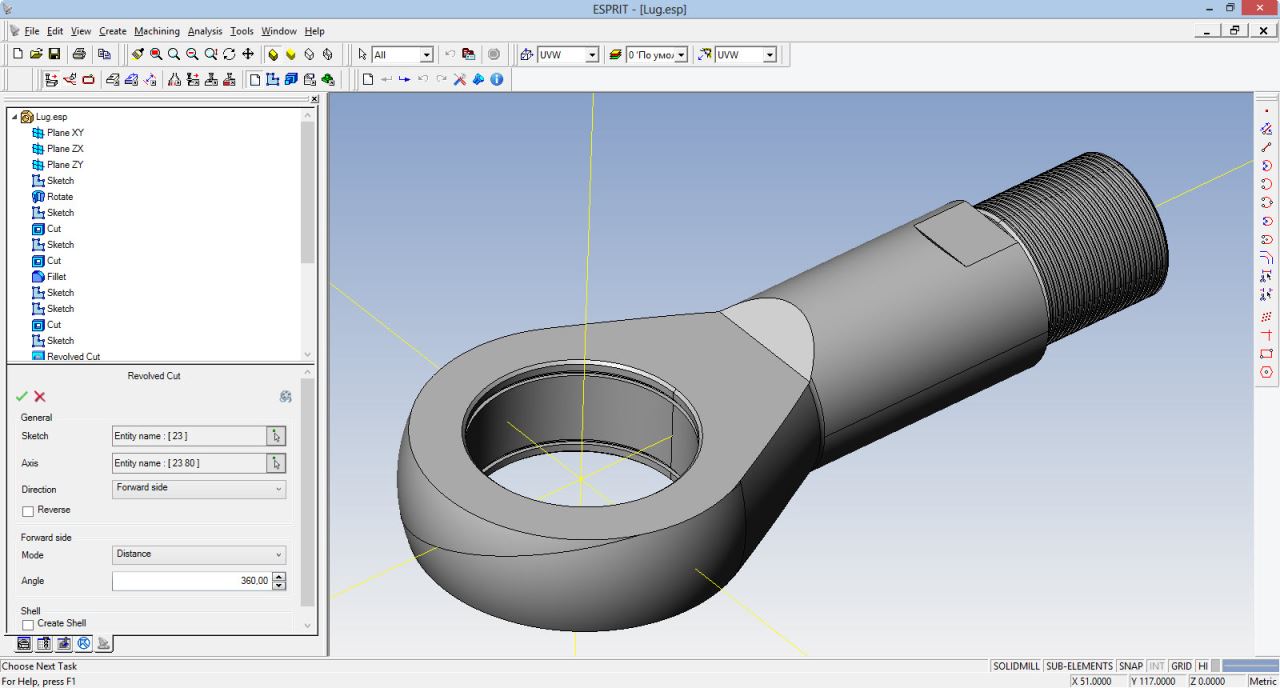 ESPRIT ExtraCAD based on the C3D geometric kernel
Open Design Alliance
Open Design Alliance is a nonprofit organization based on the idea of supporting DWG files without Autodesk. Over time, ODA transformed into a robust supplier of software development toolkits (SDKs) that provide interoperability with many CAD formats, visualization, PDF publishing, and more. At the beginning of the year, the ODA revealed its own solid modeling kernel, a kind of high-end program component.
These innovations were created with incredible speed by Russian programmers for the most part. ODA has R&D centers in Saint Petersburg and Nizhny Novgorod, while some of the work is performed by the LEDAS team in Novosibirsk -- yet another mention of LEDAS in this article!
Open CASCADE
Open CASCADE Technology is the only open-source software development platform on our list. The French company provides services and tools for 3D surface and solid modeling, visualization, and CAD data exchange. In an interview with the Linux Format Russia magazine, the company said that its administrative and management staff were based at the headquarters in France, while most of the development work was done by a Russian team comprising around 70 engineers. Open Cascade SAS's Datavision production facility in Nizhny Novgorod is responsible for supporting the open-source SDKs and writing end-user software applications.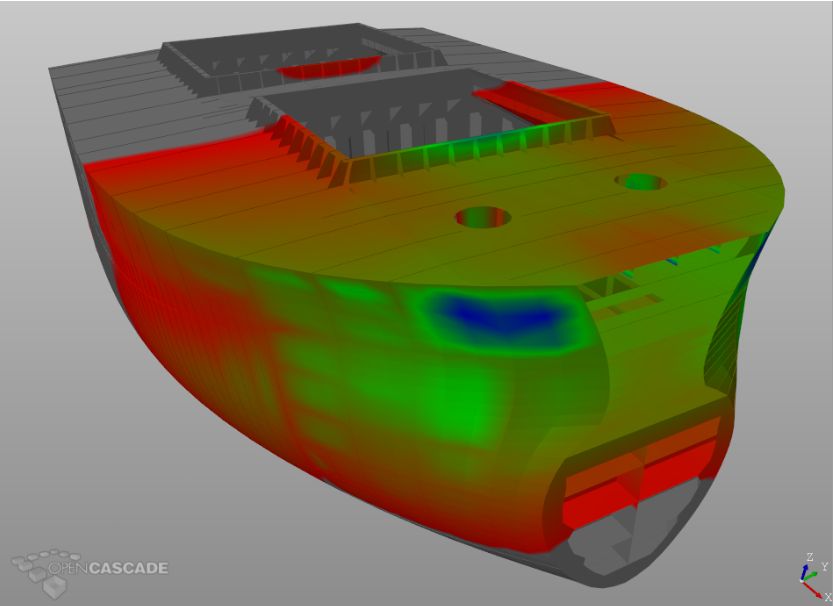 3D model visualized by the Open CASCADE Technology component
Source: opencascade.com
- - -
So, the next time when you run your fav BricsCAD or Altium Designer, think for a moment that their smart algorithms were probably developed in Russia.
[Olga Kalyagina is a head of marketing and communications at C3D Labs, a developer of C3D geometric kernel and other program components. She has over 16 years of marketing experience in the engineering software industry. She previously worked as an academic program manager, PR manager, head of marketing service department at ASCON, the parent company of C3D Labs. Olga holds a degree in management from the Moscow State Institute of Electronic Technology.]
This article was first published by isiscad and is reprinted with permission: http://isicad.net/articles.php?article_num=20905